4 Reasons Digital Inkjet Wide Format Printing Is Transforming Business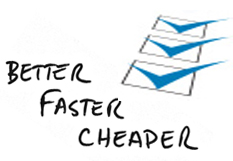 We know businesses want "better, faster, cheaper," and the print industry is listening. Demand for digital printing— particularly wide format printing—is exploding with forecasts showing it will be neck and neck in popularity with offset printing by 2018. More specifically, digital inkjet production printing will prove to be a disruptive force as new technologies make it more appealing to business in any market, whether they're looking for retail signage, tradeshow displays or vehicle wraps.
So what's all the excitement about? The inkjet printer, like the one on your desktop, has been around for a while. While production inkjet printers essentially use the same technology, they operate at high rates of speed similar to a commercial printing press. It's true—it's technology that's been used for more than 40 years, but the technology is newer, which will make printing "better, faster, cheaper" and more suited to the changing demands of print buyers.
Faster turnarounds: Advances in digital printing technology now make it easier for print providers to do shorter runs with more speed and higher quality. They'll get blacker blacks and brighter colors at higher print speeds and lower costs.
Water-based inks: Inkjet inks are primarily made of water (with virtually no volatile organic compounds or hydrocarbon-based solvents) unlike other printing technologies. And water-based inkjet inks don't add as much weight to the page, reducing the cost of transport and mailing rates.
More personalization: Digital wide format printing allows further personalization of the content used in direct mail marketing, and the response rates have steadily increased with this personalization.
Less waste: Digital printing is a print-on-demand technology, so you can print what is needed and no more. It can also reduce set-up and make-ready times and eliminate startup press waste.
Have a Great Day
Audrey Ferrante
Ferrante & Associates











Let's connect
If you'd like to learn more about how we think here at Ferrante & Associates, subscribe to our
blogs
or our
monthly Newsletter
Ferrante Speaks. You may also follow us on
Twitter
,
Google+
or
Facebook
.
Don't miss out:
Subscribe
and receive regular updates delivered automatically via a web portal, newsreader or email.