Why G7 matters when shopping for commercial printing services
Just what the world needs, another acronym—G7 PC.
Well, actually, if you're a buyer of full-color commercial printing, it really is something you need.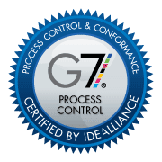 You see, G7 Process Control (PC) is designed to help commercial printing services deliver a repeatable color product as efficiently as possible. It's the best way for them to ensure your complete satisfaction with the finished printed product. G7 PC accomplishes this by enabling printers to achieve a high level of efficiency and predictability through standardization and process control practices, which, in turn, allow them to offer you consistency in 4-color printing.
A more, but not overly, technical explanation of G7 PC.
G7 PC is an extension of G7 Method, IDE Alliance's proof-to-print process, which is based on principles of digital imaging, spectrophotometry, and computer-to-plate (CTP) technologies. G7 is a set of streamlined procedures created by GRACoL,* which are packaged, promoted and administered as a certification standard by IDE Alliance. By utilizing the existing ISO 12647 Standards, G7 forms the basis for good printing.
With G7, commercial printing services are able to go through a series of technical steps in a clear logical path of discovery to determine the inherent print capabilities of their equipment. They use all the information they gain to tune and adjust for the purpose of creating best-practice levels and customized ICC profiles for each print output device, and each printing press and paper type they work with. The customized profiles are applied to files either before or at the Raster Image Processor (RIP) prior to output on a CTP (Computer-to-Plate) device or digital press, thus ensuring the very best quality and consistency in 4-color printing.
Why G7 PC for commercial printing services is critical today.
As the world grows smaller, and printing technology becomes more diverse, having standardization and process control practices in place is vital for print providers to offer their clients the consistency of color across the plant, and across the globe. When you do business with a G7 certified company, you can rest easy knowing that when your print project is transferred from color proof to final product that you're getting what you approved, and what you paid for. With G7 PC, you never have to lose sleep over whether or not the color you saw at the proofing stage will match up with the color you see when your printing project is printed, trimmed, dried and delivered.
*Although G7 was developed by the efforts of the GRACoL Committee, it should not be confused with GRACoL or with GRACoL 7.











Let's connect
If you'd like to learn more about how we think here at Ferrante & Associates, subscribe to our
blogs
or our
monthly Newsletter
Ferrante Speaks. You may also follow us on
Twitter
,
Google+
or
Facebook
.
Don't miss out:
Subscribe
and receive regular updates delivered automatically via a web portal, newsreader or email.