Having enough printed materials at your trade show is key to success.
Printed materials help increase your market share at trade shows.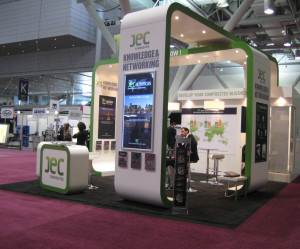 There are a many things to prepare for when exhibiting at an industry trade show. One very important priority should be to have enough printed materials on hand. You're probably thinking, why go with printed pieces when digital media is so hot?
Digital communications are fine in many situations, but printed marketing materials along with strong booth graphics are still a tried and true means of getting your word out at trade shows. Far too many organizations neglect this very important piece of the promotional pie when setting up shop at trade shows.
The list of printed materials you can distribute at trade shows is long, but so are the benefits!
Large format banners to provide exhibitors with the "WOW" factor.
Promotional handouts such as information sheets, flyers, and calendars.
Pocket folders that can be filled with all sorts of useful marketing materials.
Notepads, mouse pads and brochures are highly effective giveaway items at trade show booths.
The list doesn't stop there, as you will see from the list below.
If you want a successful show, consider some of these worthwhile printed items as well–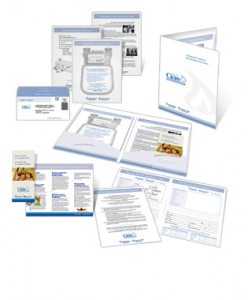 Awards
Badges
Certificates
Coupons
Envelopes
Event Announcements
Event Materials
Event Tickets
ID Cards
Invitations
Maps
Membership Booklets
Membership Cards
Membership Directories
Name Badges
Programs
Raffle Books
Raffle Tickets
Political Campaign Materials
Registration Materials
Save the Date Cards
Signage
Table Tents
It's OK to think digital!
Digital communications are here to stay. So don't shy away from using them to get more out of exhibiting at trade shows. One way you can harness digital power is by using QR codes on your printed materials. This allows visitors to quickly connect with your business digitally, at anytime, from anywhere. Another way to leverage digital power is to use digital display boards at your booth to show off products and impart additional information.
Trade show organizers also make their presence known with printed materials.
Trade show organizers also have much work to get ready for an event. They, too, must have an array of marketing and printed event materials ready and waiting for attendees. Here are just a few of the items organizers need to ensure favorable results:
Advance and Final Programs
Conference Brochures and Flyers
Exhibitor Prospectus
Conference Journal-Notebooks
Session Handouts
Presentation Folders
Postcards
Pocket and Badge Agendas
Membership Directories
Room Signs
Have a Great Day
Audrey Ferrante
Ferrante & Associates











Let's connect
If you'd like to learn more about how we think here at Ferrante & Associates, subscribe to our
blogs
or our
monthly Newsletter
Ferrante Speaks. You may also follow us on
Twitter
,
Google+
or
Facebook
.
Don't miss out:
Subscribe
and receive regular updates delivered automatically via a web portal, newsreader or email.