For trade shows to be successful, exhibitors must follow through
Successful follow through results in successful trade shows
You invest a lot of time and money in trade shows in order to generate leads. Despite the effort, way too many trade show leads wind up neglected and forgotten.
Industry research shows that 80% of leads from trade shows are never followed through on. This happens not because companies are foolish, but because the system they have put in place to follow through on sales leads is often flawed.
Too many companies focus little attention on the follow-through process. It may not be a task one looks forward to performing, particularly after all the work that went into exhibiting at the trade show, but it is one that must be done properly if you want to have successful trade shows.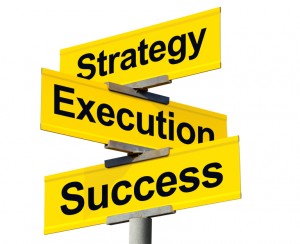 Here are some ways to improve your follow through efforts
First of all, do not drive yourself crazy trying to collect business cards from every person who passes your booth. It is more effective to leave the trade show with cards and contacts from a smaller number of people who you have determined are truly interested in your product or service.
Take brief notes of the conversation, level of interest and next steps while you are at the show. These notes and comments will help you to establish whom to call first after you return from the show.
It is also wise to make arrangements to get back in touch with all of the higher-priority folks right on the trade show floor. This is fairly easy to do, especially in the age of smart phones. And please make every effort to contact these folks as quickly as possible. The longer you wait, the greater the likelihood of losing those sales opportunities.
Persistence matters if you want successful trade shows
Persistence comes in the form of phone calls. When you call prospects, make sure you reference the conversation you had with them at the trade show. Make it specific to an issue they told you they were having, and how your product or service can solve it. And keep in mind that one follow-through call usually does not result in a sale, so make a note of the next time you will contact that person, and the next if it is necessary. Keep the follow-through process going with all your contacts, and there is a good chance that your persistence will pay off.
Make the most of your trade show investment
You can see why it is extremely important that a well thought out follow-through plan is essential if you want to have successful trade shows. And when you add to this the sense of urgency generated by knowing that your competition has the same set of leads that you do when they exit the show, it becomes clear that a focused rapid response effort is essential if you are to get the most out of your trade show investment.











Let's connect
If you'd like to learn more about how we think here at Ferrante & Associates, subscribe to our
blogs
or our
monthly Newsletter
Ferrante Speaks. You may also follow us on
Twitter
,
Google+
or
Facebook
.
Don't miss out:
Subscribe
and receive regular updates delivered automatically via a web portal, newsreader or email.