Excellent customer service is what separates an average company from an excellent one
What is excellent customer service?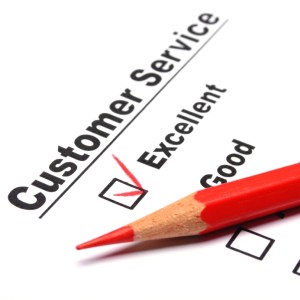 It's the company's ability to consistently and constantly exceed the expectations of its customers.
Companies attain it by maintaining a good relationship with customers, being honest, understanding their customers better, and comprehending the specifics of issues that arise.
It also encompasses double- no, make that triple-checking everything you're doing for them, and being available days, evenings, even weekends, to take calls and answer emails.
Your staff needs to have a set of specific customer-centric skills that include the following:
What it takes to offer excellent customer service
Patience:
Patience is essential because when customers call for support they're often perplexed and irritated. To help get them through the particular issue your staff needs to take the time to clearly understand the situation.
Attentiveness:
Being attentive means having the ability to listen carefully to customers. That means listening closely to pick up the language and terms they're using to describe their problems. This helps your staff get to the root of the issue, so it can be rectified in a timely and effective manner.
Knowledge
Whether your company provides products or services, it's vital that your staff possess an in-depth knowledge of your offerings. When your people know the inner and outer workings of what you sell, issues get handled correctly.
Time Management
There are instances when a staff member just can't get to the bottom of an issue. When a dead end is encountered it's important for your people to turn the customer over to someone in your organization who can help. Knowing when to do this helps save time for all involved.
Persistence
Having a great work ethic and a willingness to do whatever it takes are two important skills when providing customer service. In addition, when you have employees who strive to go above and beyond the call of duty, your company is rewarded for the extra effort in loyalty and future sales.
Finish on a high note
Having all the skills outlined above (including the one below) allows your staff to conclude a call in a way that leaves the customer feeling everything has been or will be taken care of. At the end of the day, that's what great customer service is all about.
Desire to learn
As members of a company, we all must seek to improve what we do, whether it's developing products or services, marketing businesses, or helping customers. To become better at our jobs, we must continue to learn…
Ten very successful companies with very happy customers.
The following list of the top 10 companies for customer service is based on interviews, as well as rankings from the Temkin Group, J.D. Power and Associates, Forrester Research and Zogby Analytics in partnership with MSN Money.
Amazon
United States Automobile Association
Lowes
Trader Joes
Marriott
Home Depot
Barnes & Noble
Marshalls
Sam's Club
Costco
These ten companies know things that every company should know about what it takes to provide excellent customer service—
It's making sure the customer is satisfied with the results.
It's acknowledging customers, listening and understanding their needs.
It's providing possible solutions to meet their needs in a timely manner.
It's communicating clearly, making sure they understand everything, and answering all their questions.
It's educating them on services that might be beneficial to them.











Let's connect
If you'd like to learn more about how we think here at Ferrante & Associates, subscribe to our
blogs
or our
monthly Newsletter
Ferrante Speaks. You may also follow us on
Twitter
,
Google+
or
Facebook
.
Don't miss out:
Subscribe
and receive regular updates delivered automatically via a web portal, newsreader or email.