Variable Data Printing
Variable data printing, the latest in direct marketing capabilities
Communication is changing at a rapid pace. To make sure it doesn't pass you by, you must stay on top of the trends.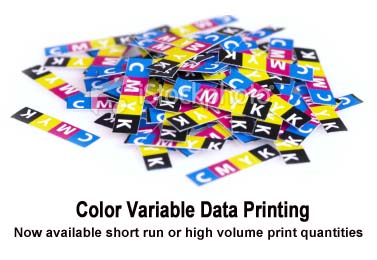 A good way to do this is by reading blogs on subjects of interest.  We here at Ferrante & Associates strive to impart the kind of information regarding the many changes in marketing communications that business owners and managers like you need to know if you're to take full advantage of them.
Add to your response rates by adding color to variable data printing.
When most people think of variable-data printing they think black and white. Thankfully that's no longer the case, because even targeted offers printed in black text only are easily overlooked or ignored. Fortunately, with the variable-data printing solutions available today you can have attention-grabbing full-color targeted offers with corresponding relevant images that are proven to improve customer response. It's a fact, direct mail campaigns using full-color variable-data printing have a 36% higher response rate, while cost per response is 54% lower and sales increase by 93%.
Out with the old, in with the new.
As you are no doubt painfully aware, generic mass mailings will only get you a 0.05% or, if you're lucky, a 3% response rate. Variable-data printing in black text only will do a bit better. However, targeted, full-color personalized direct mail gets response rates up to 20%, 30% or 40%! Those are numbers that can't be ignored. Which is why the printing industry has responded by developing a range of variable-data printing solutions with full-color capabilities. One of the best solutions out there is the HP T200 Color Inkjet Web Press. This remarkable tool offers exceptional four-color print quality, with 1200 x 600 dpi resolution. In addition, the HP T200 Color Inkjet Web Press is fast and flexible with the capability of printing up to 25 million full-color images at 200 ft/min, and up to 50 million mono images at 400 ft/mi per month with print width up to 20.5 inches. Obviously, the HP T200 is for high-volume jobs, but there are other solutions available designed to handle lower-volume requirements. Whether you need high- or low-volume printing, don't forget that in today's digital age, consumers expect personal, timely, and relevant communication or they ignore it. Vibrant full-color, personalized direct mail with targeted messages fulfills these expectations and drives higher returns on marketing investments.
Targeted messages to targeted audiences, offline and on.
Now that you're learning more about the benefits of full-color variable-data printing, here's something else to consider—today, the technology exists that allows you to seamlessly integrate your targeted messages to targeted audiences, using both traditional print direct mail and email campaigns. Combining the two enables you to send out a powerful one-two punch to customers and prospects, greatly increasing your response rates, and your sales. Not only do response rates increase with full-color personalized direct mail; those responding spend more money, with average order sizes increasing up to 24%. And, when you add targeted email to that, the results improve even further. So what are you waiting for? Get printing and emailing!
Have a great day …
Audrey Ferrante
Ferrante & Associates, Inc.











Let's connect
If you'd like to learn more about how we think here at Ferrante & Associates, subscribe to our
blogs
or our
monthly Newsletter
Ferrante Speaks. You may also follow us on
Twitter
,
Google+
or
Facebook
.
Don't miss out:
Subscribe
and receive regular updates delivered automatically via a web portal, newsreader or email.