Standard paper sizes for international printed materials
Over the past several years more and more companies have gone global, and therefore need standard paper sizes for international printed materials, along with proper measurements for their domestic US requirements. As a provider of printed materials we get many requests from customers doing business overseas for international printed paper sizes, so their designers have what they need to correctly set up the files for printing.
The requests have been coming at such a fast pace that I've decided to blog about the most common sizes. The information included here is sure to come in handy when you or your design team need to produce international marketing materials in metric paper sizes.
(ISO) International Standard Paper Sizes (Metric)
International paper sizes, also known as ISO and Metric sizes, are widely used in metric countries. ISO standards are based on a rectangle with sides having a ratio of one to the square root of 1 (1:1.414). No matter how many times a sheet of these proportions is halved, each half will retain the same constant proportions.
The A series paper sizes are now in common use throughout the world, apart from the US, Canada and parts of Mexico. The A4 size has become the standard business letter size in English-speaking countries such as the UK, Australia and New Zealand that formerly used British Imperial sizes. In Europe the A paper sizes were adopted as the formal standard in the mid-20th century and from there they spread across the globe
A-Style Series (Inches to Millimeters)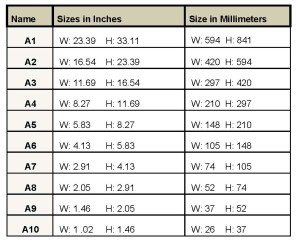 There are, of course, matching envelopes, along with additional metric sizes for many other purposes. The charts above make reference to the most common sizes we're asked about. If you want additional size information, your print provider should be able to supply you with whatever else you need to know.
Best of Days to You,
Audrey Ferrante
Ferrante & Associates, Inc.











Let's connect
If you'd like to learn more about how we think here at Ferrante & Associates, subscribe to our
blogs
or our
monthly Newsletter
Ferrante Speaks. You may also follow us on
Twitter
,
Google+
or
Facebook
.
Don't miss out:
Subscribe
and receive regular updates delivered automatically via a web portal, newsreader or email.