Marketing trade shows, relevant or passé
Marketing trade shows rock on, they really do
No one would deny that technology is here to stay. Especially when it comes to marketing and sales. But so are marketing trade shows. They're not going anywhere, and with good reason.
The best reason for exhibiting at marketing trade shows is staring you right in the face: it's face-to-face contact. No technology even comes close to providing that. Not even Skype or Facetime.
Marketing trade shows generate a tremendous amount of energy for buyers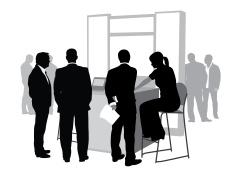 For your buyers as they walk up and down rows of booths, it's an exciting experience. Another benefit of exhibiting at marketing trade shows is the fact that buyers and sellers who meet at them often form relationships that have been known to turn into friendships lasting years and years. That's part of the special feeling one gets by attending marketing trade shows, not experienced by those visiting the digital world.
You don't have to spend a king's ransom to exhibit at marketing trade shows, either. You can go small by setting up a ten-by-ten foot booth. It may not be large but you'll be setting up shop in places where some of the largest companies in your industry go to sell their wares. And big names attract big buyers. You can attract them too, simply by being an exhibitor at the marketing trade shows they're attending.
Marketing trade shows may be an investment, but the money they cost, over and above the price of your booth, really isn't all that much. Besides your ten-by-ten foot piece of real estate, all you have to bring are marketing materials, which you likely already have, and, of course, a big smile and positive attitude.
While you're holding court at your booth, and when you're not too busy introducing yourself and your company to potential buyers, you can always put a little of today's technology to work for you. How? By tweeting, posting and connecting right from the floor of the show, using all of the newfangled technology that will never replace good old fashioned marketing trade shows.
Best of Days to You,
Audrey Ferrante
Ferrante & Associates, Inc.











Let's connect
If you'd like to learn more about how we think here at Ferrante & Associates, subscribe to our
blogs
or our
monthly Newsletter
Ferrante Speaks. You may also follow us on
Twitter
,
Google+
or
Facebook
.
Don't miss out:
Subscribe
and receive regular updates delivered automatically via a web portal, newsreader or email.