Conference meeting solutions that work
At your next conference meeting?
Will you have your conference meeting materials printed on a press and handed out to attendees, or displayed digitally on a screen for event guests to see and read on their portable and mobile devices? There's no denying that digital offers tremendous opportunities to marketers, but it's far from a done deal as far as conference meetings are concerned.
Powerful reasons for both digital and printed materials, plus displays
Some companies are under the false belief that it makes business sense to produce and "distribute" their conference meeting materials in a digital format. But when they do, they quickly discover that their digital messages wind up competing against all of the constant beeps,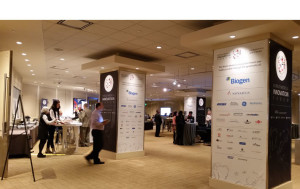 chimes and alerts from emails, notifications from social media platforms, and the latest tweet about something or other that's probably not that important to them.
High-quality printed conference materials become front and center by commanding the attention of those holding them. That goes for large format graphics and the "wow" factor they add to an event. Attendees are also far more likely to return home or to the office with conference meeting materials when they're printed, extending the life of your marketing messages. That's not the case with digital communications, which are often deleted and forgotten with the press of a button. It has also been proved that messages on physical paper stay in the minds of attendees longer than information displayed on a screen.
Above all else, print is a more trusted medium
The worth that printed materials display creates trust. That's not so with online efforts, which by the very nature of how they're distributed are perceived as being of less value and therefore less trustworthy. The trust derived from printed materials is added to when quality paper and arresting designs and graphics are employed. Psychologists refer to this as trust transfer, where the positive qualities of one thing can influence the perception of another thing. Better still, this credibility doesn't stop there; it spills over onto the company that hands out its printed materials..
Best of Days to You,
Audrey Ferrante
Ferrante & Associates, Inc.











Let's connect
If you'd like to learn more about how we think here at Ferrante & Associates, subscribe to our
blogs
or our
monthly Newsletter
Ferrante Speaks. You may also follow us on
Twitter
,
Google+
or
Facebook
.
Don't miss out:
Subscribe
and receive regular updates delivered automatically via a web portal, newsreader or email.