Inbound and outbound marketing

What are inbound and outbound marketing?
To learn the ins and outs of marketing today you must understand the differences between inbound and outbound marketing, and how to benefit from each.
Let's start with inbound marketing.
It's a means of promoting your company through online content such as blogs, video, podcasts, eBooks, electronic newsletters (like this one), articles, and whitepapers. To get these forms of content in front of the right folks they need to be combined with SEO and social media. When done effectively, they can attract visitors to your website and hopefully be converted into leads.
Now on to outbound marketing.
As the name suggests, it's the opposite of inbound marketing. With outbound marketing, businesses find customers through various paid marketing efforts, including direct mail, email, phone calling, and other traditional forms of advertising like magazine and newspaper ads, TV and radio spots, and billboards. They work, but they're more costly and more difficult to track.
Why so many are into inbound marketing.
Inbound marketing, the vastly newer of the two, is the rage because with it the leads come straight to you with no cold calling and no door knocking required. By coming to you in this manner, they've shown an interest in what you're offering. Inbound marketing is also popular because it's far less expensive to deploy than outbound marketing, since lead generation comes from SEO and social media.
The lower cost of inbound marketing is appealing, but it does cost a lot in terms of patience. You see, getting your content to come up in search engine rankings can take a lot longer than you might think—waiting months, even years is not out of the question. That's the opposite of outbound marketing, where leads can come soon after prospects receive your messages.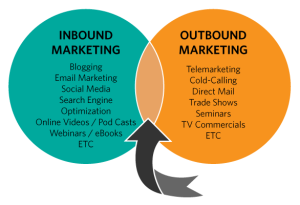 Why outbound marketing shouldn't be put out on the curb
Before the low cost of inbound marketing blinds you to the merits of outbound marketing, it must be said that creating quality content comes with a cost of both time and money. It's also important to know that not all outbound marketing methods have a hefty price tag. In fact, phone calling, emailing and traditional direct mail can be done at a fairly minimal cost.
Where does this discussion lead us?
When all's said and done, what we want from our marketing efforts—be they inbound or outbound—are leads. No, make that qualified leads. Sure, inbound marketing will get traffic to your website, but you won't know much about them unless they take the next step and contact you. That makes them visitors, not leads.
On the other hand, by its very nature, outbound marketing forces you to perform list research and planning. You can choose the industry you want to zero in on and the size of the companies in it, as well as contacts within those businesses by job function and title. This pre-qualification can help you bring in the best possible qualified leads.
In or out? How about choosing both?
Inbound and outbound marketing each have pluses and minuses. Knowing the strengths of each can help you plan your campaigns using both. When you do, your business benefits from a one-two punch!