Is what you see what you get from your commercial printers?
Commercial printers are not all the same
If you're a buyer of color offset printing, large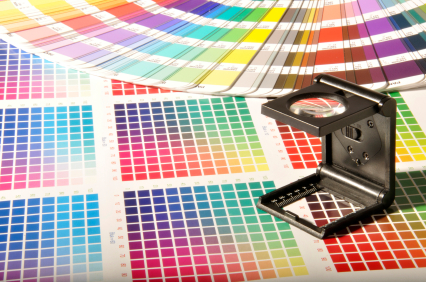 format printing or require global printing, then you've had many occasions to wonder if the color(s) you saw at the proofing stage will be the same color(s) you get when your job is completed. Color Management goes a long way in making sure you get what you agreed to and what you paid for: spot-on color. After all, Color Management can be an effective way for commercial printers to set up their workflow to allow their four-color printing presses, whether they're offset or digital, to interpret and display color similarly, so that buyers of full-color print get accurate and predictable results from start to finish.
First the bad news, then the good news.
There's no denying it, Color Management has long been an integral part of the workflow throughout the pre-press and commercial printing industry. However, most will admit that it hasn't been a foolproof process; especially as the types of printing devices have grown and become more complex. Fortunately, that's changing. Today, printers and print buyers can manage the process more effectively by using the International Color Consortium (ICC) philosophy, as well as by availing themselves of reference printing conditions such as Specifications for Web Offset Publications (SWOP) and General Requirements for Applications in Commercial Offset Lithography (GRACoL).
Gee, here's some more good news – G7.
Another methodology you should know about and rely on is called G7. It's part of IDEAlliance's industry-leading set of specifications for achieving gray balance, and is considered by many in the printing industry as the driving force for achieving visual similarity across all print processes. G7 stands for grayscale plus seven colors – the four process printing or subtractive colors CMYK (Cyan, Magenta, Yellow, Black), and the three screen or additive colors RGB (Red, Green, and Blue). G7 is a specification or methodology developed for controlling color reproduction through grayscale calibration. G7 Process Control (PC), an extension of G7 Method, is designed to drive process control through the entire print production workflow to ensure that what you see is what you get. Would you like to know more? If you would like to learn more about Color Management, and how it can help you as a buyer of full-color printing, check out the Ferrante Speaks Newsletter January 2013  "A great way to avoid printing disappointments"
Have a great day…
Audrey Ferrante
Ferrante & Associates, Inc.











Let's connect
If you'd like to learn more about how we think here at Ferrante & Associates, subscribe to our
blogs
or our
monthly Newsletter
Ferrante Speaks. You may also follow us on
Twitter
,
Google+
or
Facebook
.
Don't miss out:
Subscribe
and receive regular updates delivered automatically via a web portal, newsreader or email.