A direct mail campaign can be quite effective
A direct mail campaign for inexpensive targeting
A direct mail campaign is an effective tool for many small businesses for two reasons. It is a great way to target an audience and it is not all that expensive to create. It is also quite versatile, because a direct mail campaign can take many forms, some of which I will lay out for you in this blog.
Basic direct mail package
A direct mail campaign package is usually made up of four elements—an envelope, a sales letter, a flier and a reply card. There are other ways to go, such as with a self-mailer or postcard or by sending out a company newsletter, but I am only going to discuss the ins and outs of this basic four-part approach.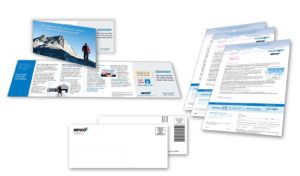 In addition to the recipient's name and address, the envelope can also include an tempting message to help prompt the prospect to open it. The message could be on any one of a host of topics such as your business has a new product or service, and you are offering a special introductory price. Or the information inside your envelope is time-sensitive, and needs immediate attention. Whatever it is, make sure that it piques the attention of the person you are sending it to.
Now that the recipient has opened the envelope, they pull out your sales letter. This is the element that does the heavy lifting for your business. This can be so effective that sometimes it is the only component in a direct mail campaign package. Besides its potential power, the sales letter is also very inexpensive to print. A sales letter can be powerful because it lets you make your case to your customer or prospect.
Make your sales letter personal
After all, it is a one-on-one selling opportunity. So write it as though you are standing in front of them. You know, write it in an up close and personal way. Keep your letter short and sweet. People are busy, so get right to the point, albeit in a personal manner. Ask for the sale. It is important to remember that you are not just providing information, you are actively selling. So you need to come right out with the purpose for sending the letter. Again, like the envelope message, make what you are selling enticing. And repeat the offer, at the beginning of the letter and at the end. Whatever else you do, give the recipient a reason to reply right away. A good way to make this happen is to add a deadline to the offer, and if it makes sense, tie in a special low price for buying now.
An envelope and a sales letter is a simple, cost effective way to go with the a direct mail campaign, but sometimes you need more real estate to tell your story. That is when a flier comes in handy. It provides you with the room to expand on the points made in the sales letter. Here you can includes photos and charts, and even add a testimonial or two, anything and everything that will help you to convince the prospect of the validity of the claims you are making about your product or service. Fliers should also be designed and written to stand on their own, when not part of a direct mail campaign.
Don't forget to ask for the sale…
A great way to do it is to include a reply card in your direct mail campaign. If the prospect is not ready to buy, the card can be a good way for them to ask for more information. When that happens, you get to capture information about the prospect. The card should also be laid out in a way to make it easy for the prospect to respond, and if possible cost-free. You can do this by simply making it a postage-paid reply card.
There you have it—the basic direct mail campaign, consisting of four-part harmony that will have you singing the praises of targeted and cost-effective selling.
Best of Days to You,
Audrey Ferrante
Ferrante & Associates, Inc.











Let's connect
If you'd like to learn more about how we think here at Ferrante & Associates, subscribe to our
blogs
or our
monthly Newsletter
Ferrante Speaks. You may also follow us on
Twitter
,
Google+
or
Facebook
.
Don't miss out:
Subscribe
and receive regular updates delivered automatically via a web portal, newsreader or email.