When exhibiting are you promoting your trade shows for maximum exposure?
Maximize your next trade show exposure and attendance.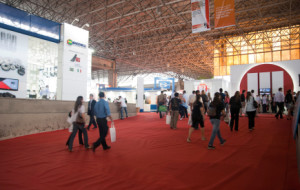 It's plain to see why trade shows are extremely popular events in many industries. They attract large crowds. But with the large numbers of visitors come a large numbers of  exhibitors— all competing with you for the hearts, minds and wallets of attendees.
Did you know that most trade show attendees plan their itinerary well in advance and pre-determine which companies and exhibits they will visit? That's why it's so important to reach out to your target market weeks, even months before the trade show opens.
Besides reaching out to announce your participation at the show by providing your name, products, booth number, location and hours, you'll need to offer a compelling reason for attendees to stop by your booth. It could be a demonstration, a valuable prize giveaway, a contest, a special offer, or the launch of an exciting new product or service. Whatever it is, it had better be good, because most trade shows are short in duration, usually only a few days. Unless you offer something unique or valuable, attendees will pass you by and visit your competitors instead.
When promoting your next trade show, remember: new is good, BUT OLD IS NOTHING TO SNEEZE AT.
Social networking sites are great vehicles for pre-show promotion, but printed banners, booth graphics, brochures, CDs, bag stuffers and additional printed communications sent via direct mail also have several advantages—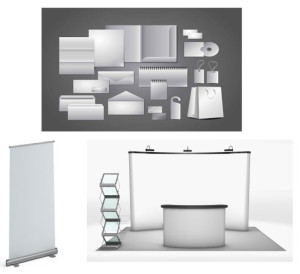 Pieces sent via regular mail can be targeted to specific individuals.
Printed pieces exist in tangible form, which guarantees they will be seen and held.
Your promotional message can arrive in any physical form you choose, including colorful, attention-grabbing text and graphics.
Four-color postcards are very poputlar for promoting a company's upcoming trade show exhibil, for good reason–
Four-color postcards are inexpensive to print and mail.
They can be personalized and sent to thousands of targeted prospects and current customers with multiple messages.
Don't overlook promotional inserts—you can easily send these to current customers by placing them with invoices, statements and
other correspondence or on your website.
Custom invitations or announcements are effective choices, too—
They can be printed with a generic or personalized promotional message and sent via direct mail.
Be consistent with your trade show communications and your customers will notice.
Whichever way you go, be sure that the graphic look, tone and messaging are consistent with the displays in your booth and complement other printed literature that you plan to distribute during and after the show. A consistent look and a unified message are important factors toward creating awareness and building brand recognition.
Integrate your trade show marketing
As stated earlier, social networking sites are good vehicles for pre-show promotion. A great way to get the most from them, as well as from email campaigns and search engine marketing campaigns is to link them to landing pages. The landing page can display directed sales copy that is a logical extension of your pre-show announcement or invitation. The general goal of a landing page is to convert site visitors into sales leads or, in this case, attendees.
Trade shows are good, highly attended trade shows are even better.
With so much to consider, it's important to have a partner with the expertise to help you get maximum exposure and attendance at your next trade show.
Have a Great Day
Audrey Ferrante
Ferrante & Associates











Let's connect
If you'd like to learn more about how we think here at Ferrante & Associates, subscribe to our
blogs
or our
monthly Newsletter
Ferrante Speaks. You may also follow us on
Twitter
,
Google+
or
Facebook
.
Don't miss out:
Subscribe
and receive regular updates delivered automatically via a web portal, newsreader or email.