Today's New Marketing Technology Solutions
Marketing technology is changing.
Are You?


Offline and online marketing is changing faster than you can say, "nanosecond". Your future success will depend on your ability to respond to rapidly changing technologies, adapt your services to evolving industry standards, and improve the performance and reliability of your services. Without question, a tall order to fill. But one that requires your understanding, attention and action.
Marketing Technology is changing, are you?
If not, beware.
Your failure to adapt to the rapid rate of technological change, especially when it comes to new marketing media and the methods necessary to deliver your messages, could do substantial damage to your business.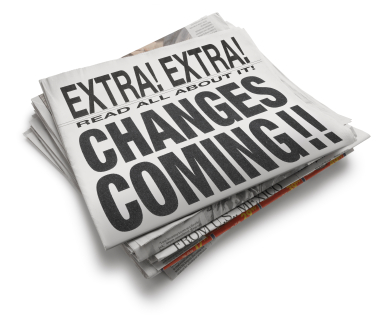 Take for example how just a few short years ago most people/customers accessed the Internet through their computers. That's no longer the case. Today, a growing number of people are accessing the Internet through devices other than personal computers. These devices include the smart phones and tablets that so many people have and use. Even the tech/marketing savvy PC industry underestimated this rapid rate of technological change, and as a result is losing sales big-time. If it's not immune to change, are you?
If you're slow to develop marketing campaigns that are designed to work with these non-PC communications devices, you're very likely to miss out on capturing a growing number of sales that are coming from how people/customers receive their communications and messages from businesses such as your competitors.
Marketing Technology is changing, are you?
You'd better be, because change is everywhere.
The really scary part is that the example above is just one change that's occurring in the world of communications today. There are many more that are lurking about ready to cause your head to spin even faster than it already is. So be on the lookout for these changes, and be ready to adapt, adapt, adapt.
Marketing Technology is changing, are you? Hopefully, after reading this, you are.
Because so much of business today is directly dependent on the new marketing media and the methods necessary to deliver messages offline and online, change is both your best friend and your most dreaded adversary. Learn to embrace the former and neutralize the latter. You and your business will be the better for it
Have a Great Day
Audrey Ferrante
Ferrante & Associates, Inc.











Let's connect
If you'd like to learn more about how we think here at Ferrante & Associates, subscribe to our
blogs
or our
monthly Newsletter
Ferrante Speaks. You may also follow us on
Twitter
,
Google+
or
Facebook
.
Don't miss out:
Subscribe
and receive regular updates delivered automatically via a web portal, newsreader or email.