Adding Videos to YOUR Marketing Mix.
People, both young and old, are hooked on adding video to their marketing mix.
After all, video marketing mix has been around for over a half century. Since the advent of network and cable television, and now with the internet explosion that allows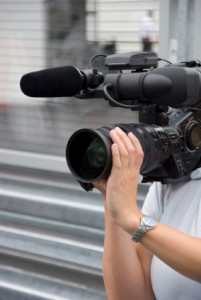 for streaming video to enter the lives of millions and millions of people around the world, the impact of video is growing by leaps and bounds. Now that we've established the incredibleness of video, let's look at the advantages businesses can realize by utilizing it.
Add a video to your marketing mix
Developing company videos on your website is cost-effective when compared with traditional print advertising. Face it, running advertisements in magazines and in newspapers is not only costly, it's also not very effective because the people you want to reach often miss your message. Today a company video presentation can be played in many formats and viewed in many places like mobile kiosks, large-screen presentations, smart phones and, of course, websites.
Video is becoming a mega powerful medium, and it can be produced at a cost you'll find appealing.
Video on websites is a boon to marketers. When most people visit websites and a corporate video or training video is offered, more often than not it gets played. Why not package your sales pitch in a medium people want? Want proof of how big a web video is on the Internet?  YouTube videos are seen on an average of 2 billion views—each and every day. And don't worry about how people will find your video, because Google's search algorithms pay a great deal of attention to it.  Videos come up high on searches. Your company video doesn't only have to be shown on your website. Just make sure it's social bookmarking-friendly, and it can wind up on Facebook, Twitter, Stumbleupon, Digg, Del.icio.us, Squidoo, Newsvine, reddit, and Diigo, spreading your video marketing message around the world for all to  see and  purchase your products and/or services.
Best of Days to You
Audrey Ferrante
Ferrante & Associates, Inc.











Let's connect
If you'd like to learn more about how we think here at Ferrante & Associates, subscribe to our
blogs
or our
monthly Newsletter
Ferrante Speaks. You may also follow us on
Twitter
,
Google+
or
Facebook
.
Don't miss out:
Subscribe
and receive regular updates delivered automatically via a web portal, newsreader or email.