The Comeback Kid: Print Direct Mail Campaigns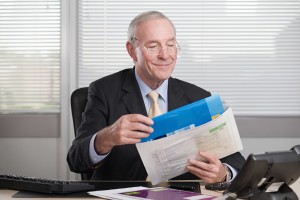 You may think the world's going completely digital, but print direct mail campaigns have made a comeback and we don't see this changing anytime soon. Ever since digital overtook its print cousin in the 1990s, it has played a huge part in direct marketing. Unfortunately, or fortunately for those of us who work in print, online ads and emails from marketers continue to inundate the internet and inboxes. Also, people miss the personalized, paper-in-your-hands feeling of direct mail. But it's not just about nostalgia—direct mail methods have been modernized and people are responding.
People ready enjoy getting mail and are more likely to read it.

The number of people young and old who throw away printed direct mail is lower now than in the 1980s, according to the Direct Marketing Association. Aside from bills, people like to get mail that's worth reading and personalized to their interests. Just as millions of people would still rather hold a book in their hands, they also like catalogs and coupons on their table. And since many marketers are ultra-focused on targeting customers online, your postcard or letter may be the only one in their mail that day and more likely to be read.
Personalized messages resonate.
Pitney Bowes research shows that consumers spend 45 minutes with magazines, 30 minutes with catalogs and 25 minutes with direct mail. So you're capturing their attention—and it's easier than ever with personalization technology. Innovations in data mining, personalization and targeting have made print a power player again.  Mass mailings with generic messages are becoming a thing of the past.
Retail is where it's at.
Almost 40% of consumers try new business after receiving direct mail, and a 2015 Gallup poll showed that 46% of American adults would likely respond positively to a mailed catalog. And in households earning $65,000 or more a year, there is a consistently higher response to direct mail.











Let's connect
If you'd like to learn more about how we think here at Ferrante & Associates, subscribe to our
blogs
or our
monthly Newsletter
Ferrante Speaks. You may also follow us on
Twitter
,
Google+
or
Facebook
.
Don't miss out:
Subscribe
and receive regular updates delivered automatically via a web portal, newsreader or email.