Planning to mail marketing materials? Better start early.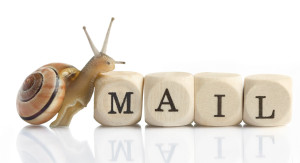 The busiest season for printing and direct mail marketing is upon us. Some advice: If you're relying on the United States Post Office (USPS) to deliver your mailing by a certain date, you'd better add a couple days to your schedule.
Now that the USPS Network Rationalization plan is in full swing, delivery is officially going at the pace of the snail. For managers of multi-channel campaigns, product promotions and event pre-show mailers, keep in mind that marketing by mail isn't as predictable as it used to be. Especially if your mailing has a target date.
As part of the plan, USPS has closed nearly 150 mail processing plants to cut costs and set new standards moving forward. Here's the most notable change: in January, USPS did away with overnight delivery for local first-class letters, which used to deliver the next day. This means no more overnight delivery for any single-piece mail and an extra day of delivery time for nearly 25% of all first-class mail. USPS has been relaxing service standards since 2012, mainly because the volume of first-class overnight mail has been decreasing since 2007.
As you set your target date for mailing marketing materials, consider the following:
The standard amount of time it takes for mail to deliver in the U.S. is two to eight business days.
Delivery time varies depending on factors such as where it's headed or the package size.
Today, larger packages could typically arrive sooner than even letters, documents or small packages. For example, you could receive delivery on a Sunday if you order from Amazon.
So, as you put together your direct mail marketing plan this fall season, make sure you plan for potential mailing delays by bumping up your target date. And don't forget how long it takes direct mail to get to different states – this USPS mailing services guide will help.
Best of Days to You,
Audrey Ferrante
Ferrante & Associates, Inc.











Let's connect
If you'd like to learn more about how we think here at Ferrante & Associates, subscribe to our
blogs
or our
monthly Newsletter
Ferrante Speaks. You may also follow us on
Twitter
,
Google+
or
Facebook
.
Don't miss out:
Subscribe
and receive regular updates delivered automatically via a web portal, newsreader or email.