Online Printing and Fulfillment Solution
Large company seeking an online printing and fulfillment capability
CHALLENGES
Hologic, one of the world's leading providers of health care solutions for women, wanted to develop a more efficient way for its customers to order marketing and promotional materials that help promote its services. At the time, hospitals and doctors' staffs were calling the company directly to order materials or requesting electronic files to print locally. This often required a huge amount of time to fulfill the many requests that came through on a daily basis. When customers did print locally, their costs were often higher because of smaller quantities and at times, branding or print quality standards were compromised. Therefore, Hologic was seeking an alternative process that protected its branding requirements and reduced the costs of order processing. They decided to look into online printing solutions, which they felt was the only way their requirements could be met.
---
SOLUTIONS
Hologic selected Ferrante & Associates to develop and implement an easy-to-use web-enabled print and fulfillment store. The store, incorporated directly into Hologic's corporate website, maintains the "look and feel" of their corporate branding. Customers can use either a major credit card or submit a purchase order for payment.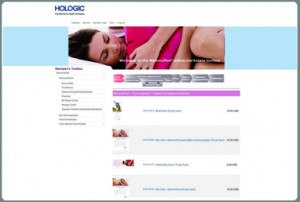 The customer can also buy static or personalized items directly, as well as accessing digital file downloads within a secure environment. The digital file downloads include customizable templates for press releases, letters, technology white papers, and PowerPoint presentations to utilize for their marketing efforts. Customers are able to add their facility names and contact information to the personalized pieces while maintaining Hologic's branding guidelines.
With the online store now in place, handling customer material requests is fully automated. Hospitals and doctors are now ordering personalized marketing and promotional collateral that includes the latest branded corporate promotional materials and product literature to promote their business development efforts. Within 3 days the order is shipped directly to the customer's door. By providing an online store, Hologic reduced the time needed for program administration, maintained brand standards and reduced costs by streamlining production. Full visibility of program costs and activities for ROI and forecasting was achieved with comprehensive 24/7 reporting tools, along with a monthly status meeting. Most importantly, Hologic's customers receive their materials efficiently, affordably and when they are needed.
Online Printing and Fulfillment Features/Benefits
An easy-to-use web store with customized ordering capabilities to enhance customer experience
Maintain branding  as determined by corporate guidelines
Reduce waste leading to lower costs.
24/7/365 access to corporate materials from any location, through a secure centralized hub that supports print production, ordering, assembly, fulfillment, inventory management and distribution, reducing costs and streamlining logistics support.
Cuts administrative overhead costs by reducing the time spent by internal administrative resources.
---
RESULTS
Customer Testimonial
"Audrey, President of Ferrante & Associates, worked with us to fully define our needs and budget requirements and assembled a 'best in class' team to design and implement our new web store for print and marketing collateral, order processing and fulfillment. Her attention to detail and strong communications skills proved invaluable to pushing the program to the success that it is."
Nicole Athanas
Corporate Marketing Communications Manager,  Hologic, Inc.
Additionally, one of the marketing collateral pieces that is available on the web store is the "Hologic MammoPad Select Customer Program" which recently won the 2009 MM&M Medical Marketing and Media Gold and Silver Awards for Best Direct Marketing to Consumers and Healthcare Professionals. The integration of superior design and technology made this program a winner for all involved.
---
Congratulations Hologic!
Best of Days to You,
Audrey Ferrante
Ferrante & Associates, Inc.











Let's connect
If you'd like to learn more about how we think here at Ferrante & Associates, subscribe to our
blogs
or our
monthly Newsletter
Ferrante Speaks. You may also follow us on
Twitter
,
Google+
or
Facebook
.
Don't miss out:
Subscribe
and receive regular updates delivered automatically via a web portal, newsreader or email.