Online business marketing takes a big leap forward
Augmented Reality puts the WOW! into online business marketing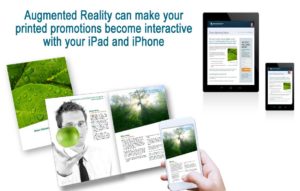 Online business marketing utilizing Augmented Reality (AR) is catching the eye of more and more marketers of printed promotions. And with good reason. It's unbelievable from a technological standpoint, and it's giving marketers better results from a dollars and cents standpoint.
Any customer or prospect with a camera-enabled device, i.e. smart phone and tablet, can get in on the action of AR. These days, that's practically everyone. Interestingly, many of them are already using their smart phones and tablets to shop and buy. When AR is added to the process, they can shop and buy like never before. That's because it leverages the benefits of online and offline marketing, creating an exciting new channel. Better yet, by bridging them, AR makes both offline and online business marketing interactive, engaging, measurable, and more profitable .
Now for a primer on online business marketing utilizing AR
AR provides customers and prospects with an enhanced view of the world by injecting digital information and interactions into real world environments. Smart phone and tablet users can unlock AR experiences that are presented in two ways. With Marker-based AR, markers can take the form of tags, QR Codes, watermarks, barcodes, or other reference points on printed materials. The marker triggers the AR experience on the user's device.  Markerless is the other way. It uses any part of the real world environment to trigger digital and virtual experiences. It does this by employing image recognition or other sensors that help determine the location, position, or orientation of the device anywhere in the world. Any image—digital or printed—can be used to trigger the experience. However, in the case of printed pieces, the material must be created using a content management interface or platform.
Incredible technology producing incredible results
By bridging the gap between offline and online business marketing, AR helps to generate better results than one or the other chosen separately. Studies prove this out.
For example, with direct mail, response rates have gone from the expected 3% to as high as 37% thanks to AR.
72% of consumers who get catalogs in the mail still prefer to make purchases online. AR lets them buy things easily and dynamically.
AR also helps to lead consumers to conversion directly from print and measures those conversions accurately.
Other applications that benefit greatly from AR include call center services, customer service and tech support. In all three cases, AR significantly reduces the calls for advice and help.
AR is so versatile that it can used with in-store signage to boost sales, product packaging to increase the bond between the customer and the brand, and even with business cards by enabling customers and prospects to go from the card to the business' website.
All that I've talked about above is possible with AR and camera-enabled smart phones and tablets, which so many consumers already have in hand. Augmented Reality (AR) may seem like the stuff of science fiction, but it's very real and here just waiting to be used to bridge print with online business marketing.
Best of Days to You,
Audrey Ferrante
Ferrante & Associates, Inc.











Let's connect
If you'd like to learn more about how we think here at Ferrante & Associates, subscribe to our
blogs
or our
monthly Newsletter
Ferrante Speaks. You may also follow us on
Twitter
,
Google+
or
Facebook
.
Don't miss out:
Subscribe
and receive regular updates delivered automatically via a web portal, newsreader or email.