Website Link Building
Build a strong link building strategy and the world will beat a path to your site.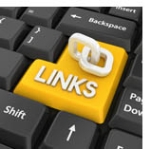 The major reason why you should take link building seriously is that it's an effective way for you to get more potential customers to your website. As such, it's important to put link building into practice if you are to improve the success of your company's website.
This month's Ferrante Speaks e-newsletter has some worthwhile thoughts on the topic…
For more important on link building check out this week's blog Understanding The Concepts of Website Link Building and if you still would like to read more about link building, subscribe to our RSS feed to receive our next blog Link Building Strategy
Think like a surfer, not like an owner.
Link building is how both visitors and search engines find you in the first place. Imagine yourself surfing the web, not as an owner of a website, but as someone just searching, going from page to page, clicking on links and winding up at websites that are of interest to you. Whether you know it or not, you wouldn't have found those sites if other websites that you also visited didn't link to them.
Okay, that's all about you, the web surfer. Now let's get back to you, the business web owner. When created and placed appropriately, incoming links will help you rise in search engine rankings. For example, say you are selling Scottish Kilts. Just imagine how much traffic and how many buyers you could attract to your website if your business was on the first page to come up in Google searches for "Scottish Kilts". Well you can wind up on page one if you have a solid link building strategy in place. Here's the best part: you don't even have to show off your legs to get buyers to notice you! LOL
Link building is one of those things that should always be on your mind, and, more importantly, something you should do on an on-going basis. Here are few things to know to help get you started—
---
To build a strong web presence and have people find your site, you must practice link building.
---
Four simple, yet effective ways to begin the process:
Link exchanges
This one's fairly straightforward. All you have to do is reach out to other website owners and ask them to link to your website. To ensure that they link to yours, offer them the opportunity to link to yours. It works on the principle of "you scratch my back, and I'll scratch yours."
Article marketing 
This one's pretty easy, too. All it takes is for you to write and submit articles to article directories and/or other websites. When you do, you include an author resource box with a link back to your site. It's a really effective link building strategy, and as such, it's worth employing.
Guest blogging 
As you probably know, guest blogging is when you write a blog post to be published on another blog as a temporary featured author. It's a terrific way to gain exposure and traffic, and to add lots of powerful links to the pages on your website.
Link-to-me page 
This one's so simple you'll wonder why you haven't been doing it right along. Simply set up a page on your blog or website that tells people how they can link back to you. It's not only easy; it's also a strategy that's quite effective over time. You'll be pleasantly surprised how many fans of your site will be eager to help spread the word for you and your business, which is why it's critical to provide them with ways to link to you.
---
Here are four more link building strategies and tips:
Build links on websites relevant to yours
Use your primary keywords in the anchor text of your links
Leave your links up long enough for them to help
Track your results using keyword rank tracking software
Here are five ways to make a link good for SEO:
Relevancy of the website the link is on
Link popularity and page rank of the site
Number of outbound links on the page
Age of the website the link is on
Placement of link on the page (zone)