The Complete Internet Marketing Strategy Guide
The Internet is a Benefit to Your Business.
That is true, but many find the Internet a tough nut to crack in getting at the many benefits it has in store for them. Which is why this month's Ferrante Speaks newsletter provides you with some help on how to get the most from the Internet.
It comes in the form of a FREE Guide by Boston's Executive Coach and personal friend Ed McDonough. This guide goes a long way toward helping you develop an effective Internet marketing strategy.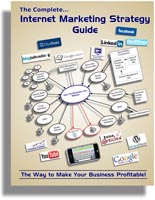 Sign Up for Your FREE
Complete Internet Marketing Guide Today!
Click Here
---
The good old days of marketing are gone. Long live the Internet…
It wasn't so long ago when you knew how to go out and find more new customers. All you had to do was list your business in the Yellow Pages, run an ad or two in the local newspaper, and send out a few mailers to the homes or businesses of customers you wanted to attract.
Kiss those days goodbye. Today much of business marketing is centered on the Internet. Why not? The Internet provides business managers and owners with a great way to get in front of potential customers around the corner and around the globe.
However, merely having a static website based on a simple Internet marketing strategy to get folks to find your business doesn't work anymore. You need more. Much more. That goes for new businesses, as well as for old. If your company is new, you need a well-rounded Internet marketing strategy to keep up with established businesses. If your company is older, you also need a well-rounded Internet marketing strategy to compete, because without one, Internet-savvy businesses will hijack your customers.
Whether you want to or not, you must embrace the Internet, and all that it can offer you.
But with each passing day, it's getting increasingly difficult for you to market your business effectively using the Internet. Face it, competition is fierce for Internet space and most businesses, both large and small, are doing a lot to get the attention of customers. Your customers.
The Internet is also making customers far pickier as to whom they want to do business with. Most customers like the idea of supporting their local businesses, but if they have difficulty finding you on the web, or your business doesn't have a strong enough Internet presence and/or reputation, you might as well close up shop.

Where do you begin?Here are some sound suggestions:
Develop a proactive Internet Marketing Strategy
Put an effective plan in place for marketing your business online
Pen a masterful marketing message for customers to embrace
Make the

most of keywords

, using them to help customers find you
Get people to recommend your business…word of mouth advertising still rules, and it's especially effective when it's done online
Your next step to developing a well-rounded Internet marketing strategy is to sign up for the FREE guide we're offering. It'll show you how to put the recommendations outlined above, and many more into practice so you can make your business better known online. Reading it will help you get more customers, increase revenue and make your business more profitable for years to come.
Or for faster results contact
Ferrante & Associates for a FREE Consultation