It's Not Easy Keeping Up
It's Not Easy Keeping Up with the Growing Demands of the 21st Century Business Environment.
Successfully marketing your business is becoming more difficult. Whether you sell online or offline, or with both, you must send the right message to the right audiences, in the right way. Easy, right? Not with all your daily responsibilities.
To help you make sense of it all, Ferrante & Associates is sending you its monthly Ferrante Speaks newsletter. Each edition contains a short, but informative article about the things you need to know to successfully market your business in the 21st Century.
Multi-channel marketing isn't such a new concept after all.
Multi-channel marketing may be the rage these days, but it really isn't all that new of an idea. Below is an example of a traditional campaign versus a well-developed and executed multi-channel marketing campaign.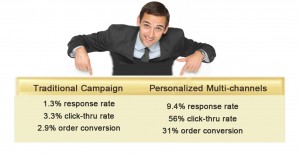 If you look back, companies have long marketed their goods and services using multi-channel techniques. Only back then it was referred to as a media mix. The mix contained various media buys — print, broadcast, outdoor, direct mail etc. The goal of media mix marketing was to reach customers at different times in different ways. This method of selling was deemed appropriate and successful because it helped businesses stay top-of-mind when buyers were ready to make purchases.
What's different today is that the number of channels available to marketers has increased. Not only have they grown, but they also have become far more complex due in large part to the emergence of new electronic media such as websites, email and social media. To complicate matters even more, these new forms of media are lessening the distinction between pure communication channels and sales channels. To communicate one-to-one through today's growing number of print and electronic media options, businesses must utilize the database technologies and personalization advancements available to them.
When personalized communications are executed properly, the results can be exhilarating. It's not uncommon for companies to experience a five-to 10- fold increase in response and conversion rates based on personalized communications. It doesn't stop there, because when print, email, web and telemarketing are combined in integrated, multi-channel campaigns, the conversion rates rise further still.
Before you break out the bubbly, remember that multi-channel marketing is not for the inexperienced or overworked.
---
Keep the conversation with us going and growing.
If you'd like to learn more about the thinking around here at  Ferrante & Associates or  subscribe to our blogs.  You may also follow us on Twitter