Is it time for a plan?
A Tidal Wave of Content!
Have you ever wondered how many blogs there are in the world? We have. Current estimates state there are nearly one-half billion (that's with the letter "B") active English language blogs in existence. Now add non-English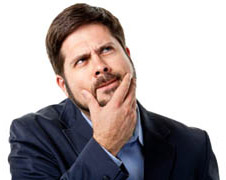 blogs, and the already staggering number gets even more difficult to fathom. Some put the number at over one billion worldwide. Which means that about one out of very six people in the world has a personal blog. Heap on corporate blogs, and it's easy to see that we're drowning in them.
Blogs are just the tip of the iceberg. How about tweets? According to Wiki.com, there are 290 million tweets written and posted every day. That comes out to about two billion per week. No matter how you add them all up, tons and tons of content is created on a daily basis. So, how does a business owner or manager like you hope to get your blog or tweet noticed, let alone read, when you're up against a torrent of information? Read the remainder of our e-newsletter for some guidance…
Here are some other interesting findings from the 2012 HubSpot report:
Technology, communications & media, retail & wholesale, education, and professional services & consulting companies, found blogging was highly effective.
The retail industry experienced the most success through Twitter and Facebook.
All of those industries had over 50% of respondents indicating customer acquisition through their blog.
50% of respondents from every industry, except retail and wholesale, indicated customer acquisition through LinkedIn.
Put a plan in place.
First and foremost, you need a plan. And with all those blogs and tweets flooding the world, it had better be a solid one. Face it, the content and messaging you want to impart to customers and prospects shouldn't resemble the rambling musings of the countless bloggers and tweeters populating cyberspace. Your information represents value. Which is why a plan is paramount. You don't want your words to wind up in the drink. You want them to be read and acted on by your customers and prospects.
The best way to formulate a plan is to engage an expert. Doing it alone almost never works out well. Of course, it's going to cost something to go the professional route. To find the money to fund it, look at all of your other marketing related expenses such as Yellow Pages advertising, website hosting, media placements, event attendance, and printing and postage. And scale back some of them.
Believe us when we say, it's going to be well worth it to shift some of your marketing dollars to the new, more effective forms of communication available to you these days. Here's an example of what we mean:According to the 2012 State of Inbound Marketing Report published by HubSpot – the company that stakes its very existence and survival on the concept that permission or inbound marketing is more effective than interruption or outbound marketing – the average cost per lead for outbound-dominated businesses was $346, while inbound businesses reported their leads cost $136 on average. With a sound and effectively integrated plan in place that encompasses multi-channel marketing – blogs, social media, SEO, direct marketing, trade shows, etc. – you'll be able to lower your costs while you acquire and convert more leads into sales.
The tide is turning (if it hasn't already done so). Are you prepared to catch the wave? To ensure that you are, seek the counsel of those with the experience in these new, but complex matters. Once you put your faith in them, get ready to handle the upsurge in sales!
---
Keep the conversation with us going and growing
Thanks for reading this month's Ferrante Speaks newsletter and learning about how variable data printing added to your printing mix helps companies grow.
If you'd like to learn more about the thinking around here at Ferrante & Associates all you need to do is Call 781 891-4328 and ask to speak with Audrey Ferrante or subscribe to our blogs (LINK TO SUBSCRIBE). You may also wish to follow us on Twitter ,  Google+ or Facebook.