Get Corporate Sponsorship Ideas
If you're an event manager, you know all too well the pressure to create an event experience unlike any other. The challenge: your budget never seems to get bigger. Corporate sponsorships could be your answer, and we've got some sponsorship ideas for you to consider. Follow these five helpful steps when looking for a sponsor.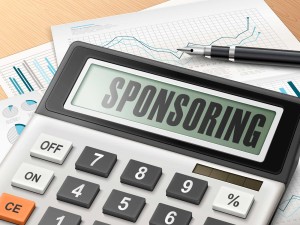 Don't put the cart before the horse.


Before you even consider a corporate sponsor, the event planning should be in its final stages. Some event managers make a few tweaks to the event based on brands they have in mind as potential sponsors. But the focus is your event, not the sponsor. Whether it's a pig roast on county fairgrounds or a technology-driven mega conference in the big city, you'll woo the right sponsor once you've got everything in place.

Your audience is everything. 


Of course you want to please your corporate sponsor. But an event's success rests squarely on the experience you create for attendees. So when considering sponsorship ideas for your trade show or conference, think about how the corporate sponsor will bring value to your audience. If they leave happy, they could become loyal customrs and your sponsor's biggest brand ambassadors.

Build sponsorship packages.


Sponsors want to get a bang for their brand's buck, so put together thoughtful packages outlining the amount of exposure they can receive. You often see event organizers promoting tiered packages that feature specific dollar amounts. It's a strategy that works for some sponsors, not others. Absolutely have some figures in mind, but sit down with your potential sponsor to determine what fits their goals and needs. You may get more than you expected simply because you took the time to speak with them.

Get on the phone. 


Now's the time to practice that 20-second pitch. Although phone calls can be time consuming, especially if you play phone tag for two weeks straight, they're invaluable in the end. In an age when impersonal emails are the norm, there's nothing like actually connecting with a "human" whether it's on the phone or in person.

Get cozy, not salesy.


This is where you start building the relationship. Use this time to talk about why your event is the perfect sponsorship opportunity for them. They'll be much more responsive if you approach them with genuine interest about aligning their brand with your event, rather than delivering a generic sales pitch. That way, even if they don't end up sponsoring your event, you've made a solid connection for next time.
Best of Days to You,
Audrey Ferrante
Ferrante & Associates, Inc.











Let's connect
If you'd like to learn more about how we think here at Ferrante & Associates, subscribe to our
blogs
or our
monthly Newsletter
Ferrante Speaks. You may also follow us on
Twitter
,
Google+
or
Facebook
.
Don't miss out:
Subscribe
and receive regular updates delivered automatically via a web portal, newsreader or email.