Direct mail marketing undeliverable mailings

Do your direct mail marketing mailers come back labeled UAA?
Many direct mail marketing materials are returned because they don't have the exact address information needed in order for them to be delivered. If there's even the smallest mistake, they wind up being returned as Undeliverable As Addressed (UAA) mail.
On the surface, this may not seem like such a big deal. But is it ever! UAA direct mail marketing mailings can add up to big marketing losses for your business in terms of postage spent, marketing materials created and mailed, plus customers and business opportunities left untouched. To prevent all this from happening, you need to figure out why your direct mail marketing efforts are being returned as UAA.
I can tell you from experience that the main offender is usually bad data. Did you know that databases decay over time? In just one year, mail lists degrade by as much as 25%. After two years, the decline grows by another 25%. Customers and prospects move more often than you think. Then there's the problem of typos in addresses and incomplete zip codes. With all this going on, some of your direct mail marketing mailings don't stand a chance of getting delivered.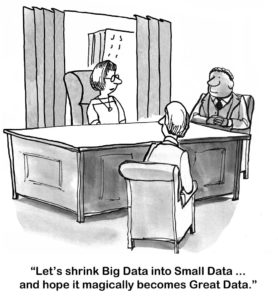 You're not alone in this. According to the United States Postal Service (USPS), in 2014 almost 7 billion pieces of mail were labeled as UAA mail. Just think of all the money and business opportunities that are lost due to UAA. Yes, it's staggering!
This problem is difficult to overcome thanks in great part to the complexity of the address verification process and the fact that businesses are forced to follow conflicting laws and regulations. For example, companies in the insurance and financial services industries are bound by law to send marketing mailings to the last known address even if it has been indicated that a change of address was submitted to the USPS.
The USPS is developing programs to alleviate the UAA problem by making it easier for people to change addresses online. And as for businesses, the USPS has created the Seamless Acceptance program. It permits companies to document address changes electronically. All this should improve things, but eliminating UAA mail is still an uphill battle.
You can help by improving the quality control of your mailings. This involves implementing a set of formal, automated and ongoing processes to help you profile, clean, enrich and update bad data. Preventing UAA isn't easy, but it must be achieved if businesses are to rid themselves of the dreaded and costly label—Return to Sender.
Best of Days to You,
Audrey Ferrante
Ferrante & Associates, Inc.











Let's connect
If you'd like to learn more about how we think here at Ferrante & Associates, subscribe to our
blogs
or our
monthly Newsletter
Ferrante Speaks. You may also follow us on
Twitter
,
Google+
or
Facebook
.
Don't miss out:
Subscribe
and receive regular updates delivered automatically via a web portal, newsreader or email.