Commercial Printing Paper
Commercial printing paper types is one of the most common questions I receive over the many years that I've been involved in printing.  This is understandable for many reasons. The question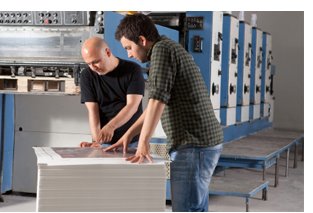 comes from a wide range of people. Most often from people who are NOT involved in printing on a day to day basis, or it may be from a seasoned designer reaching out for new ideas or possibly concerned about quality issues. Whoever asks, it's important for anyone purchasing commercial printing to know the basics of choosing paper stock. 
Commercial printing paper is a core part of the printing process.
For those concerned with environmental concerns, this should be the first requirement in choosing paper. I'd recommend that you indicate this as your first priority to your print representative. For many years now, the printing and paper industries have been committed to sustainability and have instituted many "eco-friendly green" efforts in order to  make a difference when it comes to meeting eco-friendly targets and initiatives. If you would like to know more about what you can do, see tips for incorporating green into your marketing projects.
Paper is paper… Oh, if it were only that simple!
Paper, or stock as it's known in the printing industry, takes a myriad of forms. Below I'll provide you with a short overview of some of the basic differences in order to clear up any confusion you may have about how to choose the right type of paper for your next printing job.
Coated Paper: Coated paper has a coating of clay or latex on it, which gives it a smooth finish. Coated paper generally produces sharper, brighter images, and has better reflectivity than uncoated paper (reflectivity is the property of reflecting light as measured independently of the thickness of paper). Coated paper is available in three finishes: gloss, satin, or matte, and is usually chosen for projects requiring a superior printing surface.
Here are some types of coated papers:
Machine-finished coated papers, which are often used in paperbacks.
Coated fine papers or wood-free coated papers, which are mainly used for offset printing.
Standard coated fine papers, which are used for printing advertising materials, annual reports and high-quality catalogs.
Low coat weight papers, which are used when printing a range of materials.
Art papers, some of the highest quality printing papers, which are used for illustrated books, calendars and upscale brochures.
Uncoated paper:
Uncoated paper doesn't have a coating, and is typically not as smooth as coated paper. It's also more absorbent than coated paper, and if it's thin, the ink is more likely to bleed through than it would with thicker or coated papers. Uncoated papers come in a range of finishes.  The most common are laid, wove and bond.
Here's a brief description of each:
Laid paper is a premium quality paper with a textured pattern of side-by-side lines, similar to handmade paper, and is commonly used when printing business stationery.
Wove paper is a premium quality paper with a uniform surface, and isn't ribbed or textured like laid paper. It also is used mostly when printing business stationery.
Bond paper is a term commonly used to describe economical uncoated wove papers. You're likely to be using bond paper in your photocopier and fax machine.
Knowing the difference between coated and uncoated stock is just the beginning. Make sure on your next purchase you discuss paper stock with your printer. It could make the difference between loving or not loving your finished materials.  If you liked this article, and know someone who would benefit from reading it, please feel free to forward it to them.
Have a great day…
Audrey Ferrante
Ferrante & Associates, Inc.











Let's connect
If you'd like to learn more about how we think here at Ferrante & Associates, subscribe to our
blogs
or our
monthly Newsletter
Ferrante Speaks. You may also follow us on
Twitter
,
Google+
or
Facebook
.
Don't miss out:
Subscribe
and receive regular updates delivered automatically via a web portal, newsreader or email.