Choosing color printing can cause color-blindness
Color printing made simple
Ordering commercial printing can be intimidating. Especially when it comes to choosing colors. The biggest decision you'll have to make is whether to go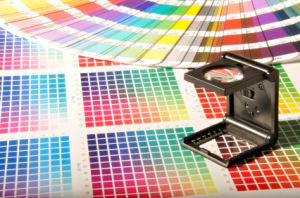 with spot colors from the Pantone Matching System (PMS) or with CMYK process printing.
The basic differences between PMS and CMYK.*
The Pantone Color Matching System is largely a standardized color reproduction system. By standardizing the colors, different manufacturers in different locations can all refer to the Pantone system to make sure colors match without direct contact with one another.
CYMK is short for Cyan-Magenta-Yellow-Black, and pronounced as separate letters. CMYK is a color model in which all colors are described as a mixture of these four process colors. CMYK is the standard color model used in offset printing for full-color documents. Because such printing uses inks of these four basic colors, it is often referred to as four-color printing.
*You might enjoy a blog I wrote a while back about When to use CMYK versus RGB.
Which color printing system is right for YOU?
Let's begin with CMYK. I'll try to keep this as simple as possible—when preparing an image for printing in CMYK, the electronic file is separated into four primary colors (Cyan-Magenta-Yellow-Black). The image is recreated using screen tints made up of small dots that are applied at different angles to the four process colors. The separated color images are then transferred to four different printing plates on the press. The colors are then printed one after the other to recreate the original image.
Now, let's examine the PMS system. It uses pre-determined, published color formulas to create a large number of ink colors. It's a standardized color reproduction system, much like the color swatch system used in paint stores. The Pantone color chart contains thousands of color swatches created from a palette of basic colors. It does so with incredible precision. Each color has a PMS number assigned to it. These numbers are used to identify the exact color needed. Using PMS inks is called spot color printing.
CMYK vs. PMS
The CMYK system is better suited for:
Full-color photographs and illustrations
Multi-color graphics that require too many colors to reproduce using Pantone (PMS) spot colors
The PMS system is appropriate for:
Precise color matching for logos and branding elements
Covering a large area, where consistency and saturation are important
Using the same color over multiple pages
Creating more vibrant hues and precise shades
Adding special effects like fluorescent, pastel or metallic colors (more on metallic inks later in this blog)
Hexachrome is the next color system to know about.
Hexachrome is a six-color printing process brought to you by Pantone, Inc., the folks who created the PMS system. Hexachrome offers an enhanced color ink set. It allows printers to reproduce rich, vibrant solid colors, realistic skin tones and elegant pastels. Hexachrome also reduces the dependency on spot colors and allows end-users to easily re-purpose their designs for different applications, including electronic, such as the Websites, landing pages, etc.
Put an extra shine on print projects.
Metallic inks are special inks with fine reflective metallic particles that create a shine that can't be attained using standard inks. Silver and gold metallics are two colors used most often, but metallic inks also come in an array of eye-popping colors such as red, blue, purple, and copper. Metallic inks are ideal when you want to add attention-grabbing shine to any printed piece without the higher cost of foil stamping.











Let's connect
If you'd like to learn more about how we think here at Ferrante & Associates, subscribe to our
blogs
or our
monthly Newsletter
Ferrante Speaks. You may also follow us on
Twitter
,
Google+
or
Facebook
.
Don't miss out:
Subscribe
and receive regular updates delivered automatically via a web portal, newsreader or email.